General IELTS Task 1 Letter Samples
If you're unsure what your General Training Task 1 answer should look like, it's helpful to see some sample answers first.
Below, you will find several Band 9 Task 1 Letter Samples to help you understand what is required from you to get a high IELTS score.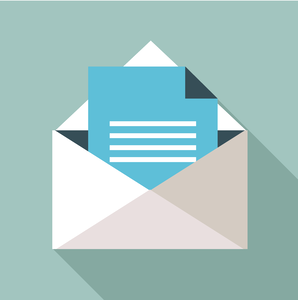 Contents;
Instructions
The sample answers below will help you understand how you should organise your own Task 1 answers.
However, you will improve even faster if you answer the questions first and then compare what you've written with the sample. You can also watch the videos to see what typical mistakes other students made and check if you made the same ones.
However, if you haven't already studied what to do in Task 1, I would recommend that you first check out my General Training IELTS Writing Task 1 Lessons.
#1 Formal Letter Sample
Question #1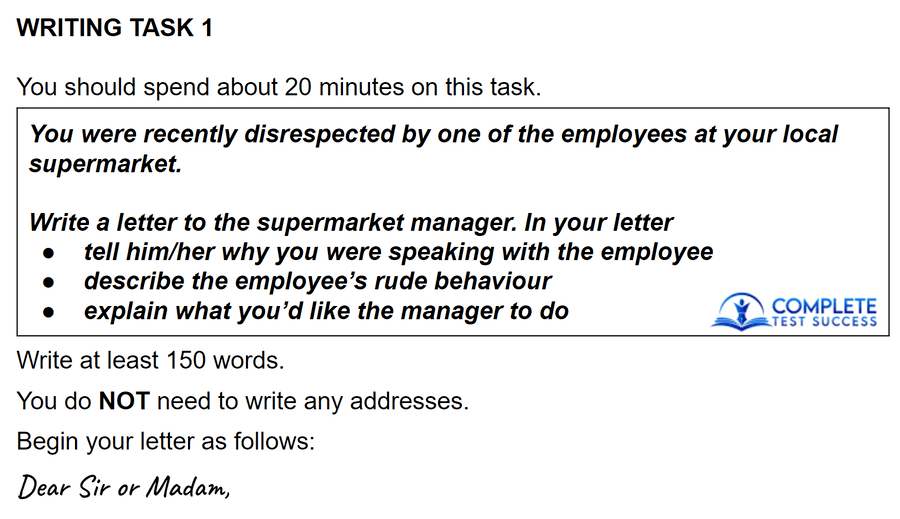 Feedback Video #1
Sample Answer #1
Dear Sir or Madam,

While at your supermarket last Tuesday, I was unable to reach a box of cereal from the top shelf, and there weren't any staff members or other customers in the aisle who I could ask for help. For this reason, I asked for assistance from a female employee in the nearby bakery section of your supermarket.

This person's response was incredibly inappropriate and is the reason I am writing this letter. At first, she stared into my eyes without saying anything, after which she laughed under her breath and walked away. At this point, she began pointing in my direction while whispering to another member of staff in the bakery.

I'm highly insulted by this conduct for obvious reasons, and I wish to be sent a letter of apology directly from that staff member. On that day, it seemed as though this was the only female employee in the bakery, which is why I'm confident that you will easily identify the person in question, and furthermore, I expect to hear from her within the next week.

Yours sincerely,

Lar Ryan
#2 Informal Letter Sample
Question #2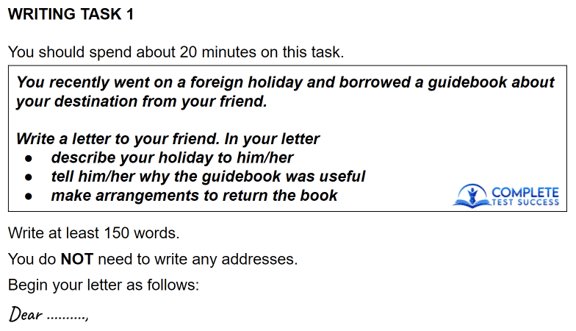 Feedback Video #2
Sample Answer #2
Dear Bob,

I just got back from my trip to Paris, and it was as impressive as you described. I spent a lot of time visiting all the typical tourist attractions, which never failed to amaze me, and I also rambled around the back streets to see what other exciting things I might find. I must say, it's definitely the most unique and fascinating place I've ever been.

Your guidebook was an absolute godsend as well because of all the useful phrases, and I was able to interact with the locals a lot more than I expected. One time, as well, I got completely lost, and it wasn't until I remembered the map in the guidebook that I could find my way back to the hotel.

Anyway, I'll be working in your area towards the end of next week, so I thought that I'd drop over when I'm done to give you back the book. It should be at around dinner time on Thursday. Would that be okay with you? If it's not suitable, I can come over another time so just let me know either way.

Best wishes,

Lar
#3 Formal Letter Sample
Question #3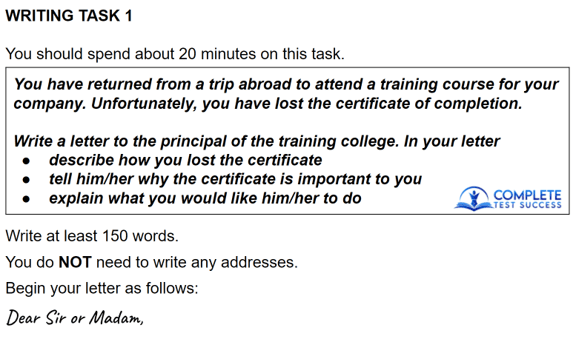 Feedback Video #3
Sample Answer #3
Dear Sir or Madam,

I completed your outstanding CAD training course last week but, unfortunately, I have lost the certificate that was awarded to me. While driving to the airport this morning, I took it out of my bag to look at it again but subsequently forgot to put it back and left it in the taxi as a result.

As I have passed the course, I am now entitled to a substantial pay increase from my employer, but firstly, I must submit proof to my finance department. The CEO of our company is very strict about this and will only accept official documentation, which is why this certificate is so important.

I would be forever grateful if you could make another copy of the certificate and send it to my company's address. My tutor on the course was Mrs Smith, and she will be able to verify my completion of the course and any other details that you might need. As soon as I have the certificate, I will receive my pay raise, and therefore, I would greatly appreciate it if you could do this for me as soon as possible.

Yours sincerely,

Lar Ryan
#4 Informal Letter Sample
Question #4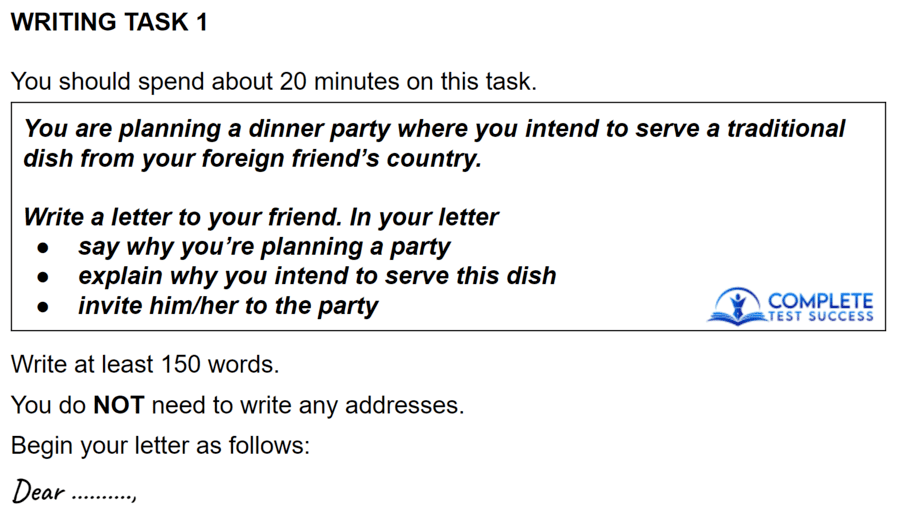 Feedback Video #4
Sample Answer #4
Dear Jane,

I'm throwing a dinner party on Sunday to celebrate 20 years of marriage with John. He doesn't know that I am planning it, so that will be a big surprise for him. You know that he loves having visitors over to the house, so I'm pretty sure that he'll be delighted when he sees all of the guests arriving.

We will have dishes from your country there because John is actually a massive fan of Nigerian food. We usually don't eat it much because it's just so tricky to get the right ingredients around here. Luckily, though, I was able to get everything I need already, and I know that this will make the party all the better for him.

I was hoping that you can come to the party too because there will be other people there that I think you will enjoy meeting. Dinner will be at about 5 o'clock but get here before that if you can, and we'll hang out for a while before everyone else comes. Can you let me know by Saturday if you'll be coming because I want to make sure that I cook enough food?

Best wishes,

Jenny
#5 Formal Letter Sample
Question #5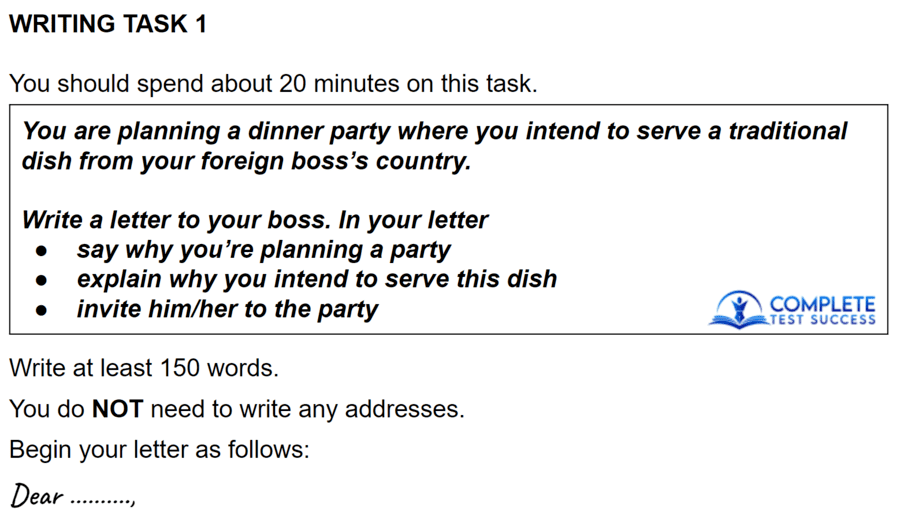 Feedback Video #5
Sample Answer #5
Dear Mrs Smith,

This Sunday, I am having a dinner party to mark my and my husband, John's, 20th wedding anniversary. He is not aware that I am organising this party which means that it will be quite a big surprise for him. John immensely enjoys when we have guests, and because of this, I am quite confident that he will be very pleased when the guests arrive.

There will be cuisine from your country served as my husband is very fond of Nigerian dishes. Under normal circumstances, we don't eat it very often, though, as it is quite challenging to get the right ingredients in this part of the world. Fortunately, however, I have been able to acquire all the necessary ingredients, and I am confident that John will enjoy the party all the more because of this.

I thought that it would be nice if you could come to the party as well since there will be some guests who I believe you would enjoy the company of. Dinner will be served at approximately 5 o'clock; however, it would be nice if you could come earlier and we can chat before the other guests arrive. Please let me know by Saturday if it is possible for you to attend because I would like to ensure that there is enough food for everyone.

Yours sincerely,

Jennifer O'Connell
#6 Informal Letter Sample
Question #6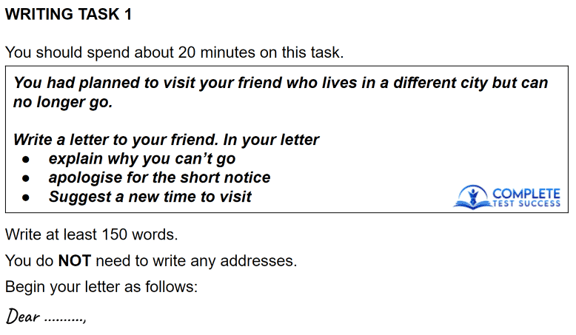 Feedback Video #6
Sample Answer #6
Dear Fiona,

It turns out that I can't visit you next week as we had planned because I have an important client flying into the country and he wants me to show him around some of the tourist attractions over the weekend. It's a pity that I can't make it, but it's really out of my hands.

I'm so sorry that I couldn't give you more notice, but I just found out this minute. The client wasn't supposed to come for another few weeks but changed his plans for some reason or another. I really hope you hadn't gone to any bother getting ready for my visit.

As soon as the client leaves I'll be free again so I thought I could visit you the weekend after this one if you're free then. I'm all excited about seeing you, so don't want to put it off any longer than I have to. Just let me know if that's okay for you, and I'll call the airline to see if I can still delay my flight.

Best wishes,

Lar
#7 Formal Letter Sample
Question #7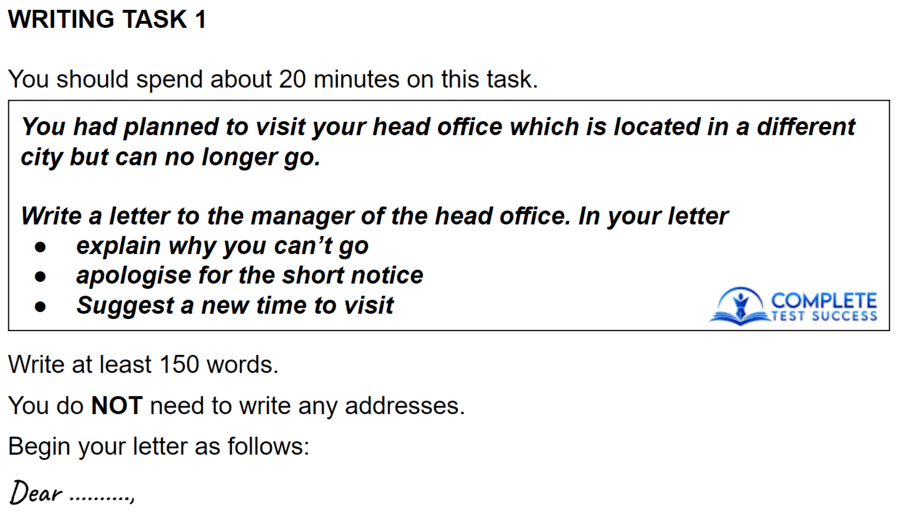 Feedback Video #7
Sample Answer #7
Dear Mrs Folan,

It has just come to my attention that I will not be able to visit head office next week as had initially been arranged. This is because an important client is visiting from abroad, and has requested that I give him a tour of the local tourist attractions during the weekend. It is unfortunate that I must cancel, but I have no other option under the circumstances.

My sincerest apologies for not providing you with more notice; however, I have just learned of this myself. I had initially been informed that the client would visit on the 28th, but he pushed the date forward for some reason that I am unaware of. I hope you hadn't yet made any preparations for my visit.

Once the client leaves, I will be available and, therefore, would like to reschedule my visit to head office for the weekend of the 16th, if that is suitable for you. I am eager to resume our plans as soon as possible, so I would like to avoid delaying them any further. Please inform me if this arrangement is acceptable for you, and I will contact the airline to enquire if it is still possible to delay my flight.

Yours sincerely,

Lar Ryan
#8 Formal Letter Sample
Question #8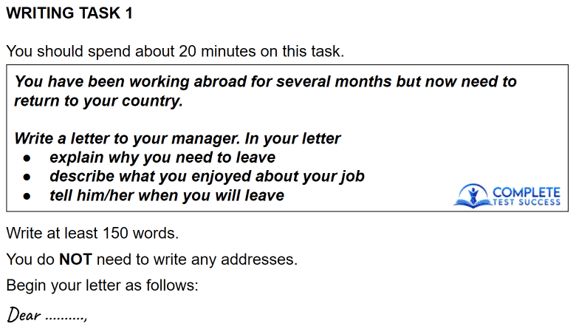 Feedback Video #8
Sample Answer #8
Dear Mr Smith,

I regret to inform you that I am unable to continue working as a member of your team as I must return to my country to complete a master's degree. I have been fortunate enough to be accepted into one of the top universities in my country, and this is an opportunity that I must pursue.

I have thoroughly enjoyed my time working in this position as it gave me a wonderful opportunity to learn so much about this industry. I hadn't realised that there are so many factors to consider when organising transportation, and furthermore, I believe that all of the skills I have learned will benefit me in future endeavours.

My intention is to continue working here until the end of next week, after which I will be returning home. I would like to have given you a longer period of notice, but the master's program is starting next month, and I must return to my country before that so as to organise my accommodation for when I am studying.

Yours sincerely,

Lar Ryan
#9 Informal Letter Sample
Question #9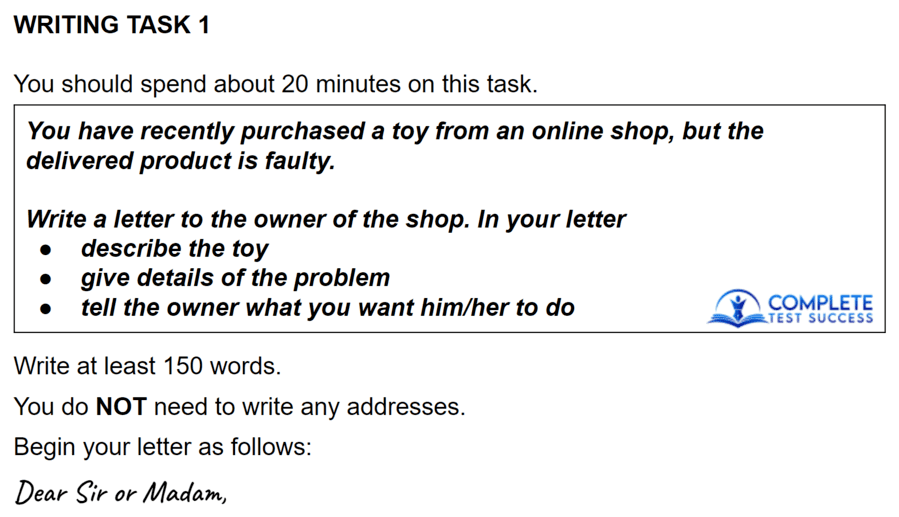 Feedback Video #9
Sample Answer #9
Dear Sir or Madam,

Yesterday, the brown teddy bear which I ordered from your website was delivered to my house. The bear appears to be made from polyester, and it is wearing a purple dress and matching hat, which are fashioned from a heavy velvet material. As well as that, the bear's paws are covered with red and white checkered cloth.

However, the nose of the bear had not been firmly attached and has fallen off this morning. The bear was placed on a shelf immediately after the delivery and has not been touched since. I'm, therefore, entirely confident that the issue was caused during the manufacturing process, rather than something that happened since it was delivered.

As this product was purchased as a gift for my daughter's birthday this weekend, I need you to send a replacement to me before the end of the week. My wife will be at home during the daytime, which means that your delivery driver can come at any time that is convenient for you.

Yours sincerely,

Lar Ryan
#10 Informal Letter Sample
Question #10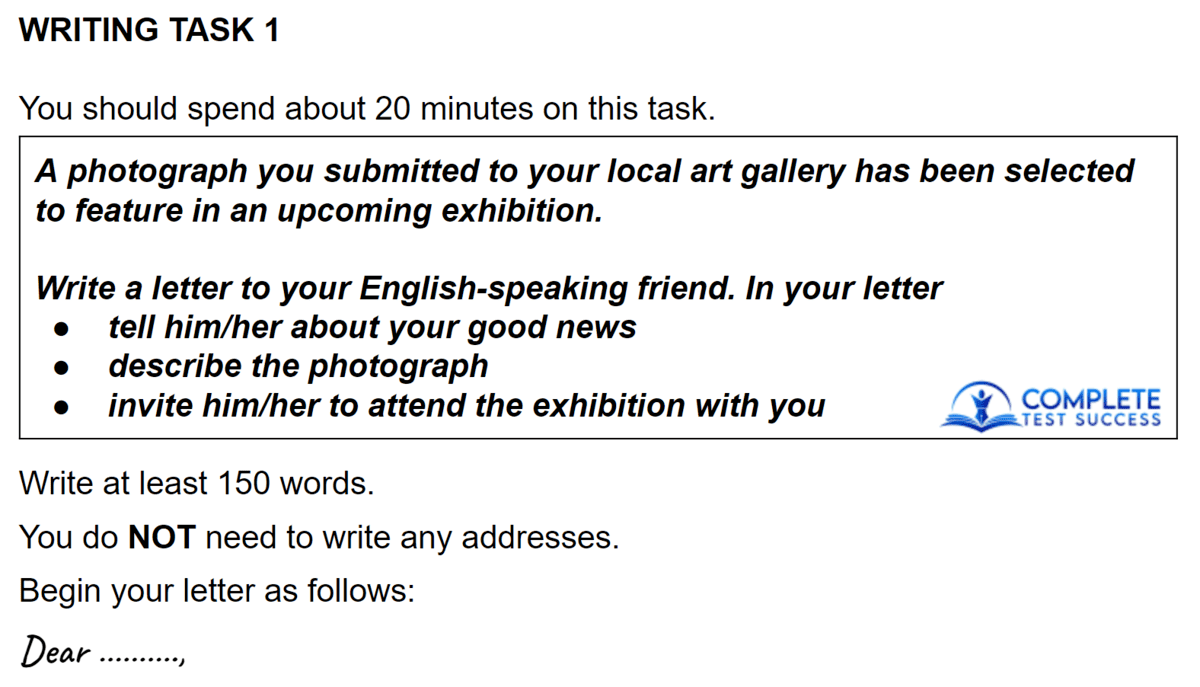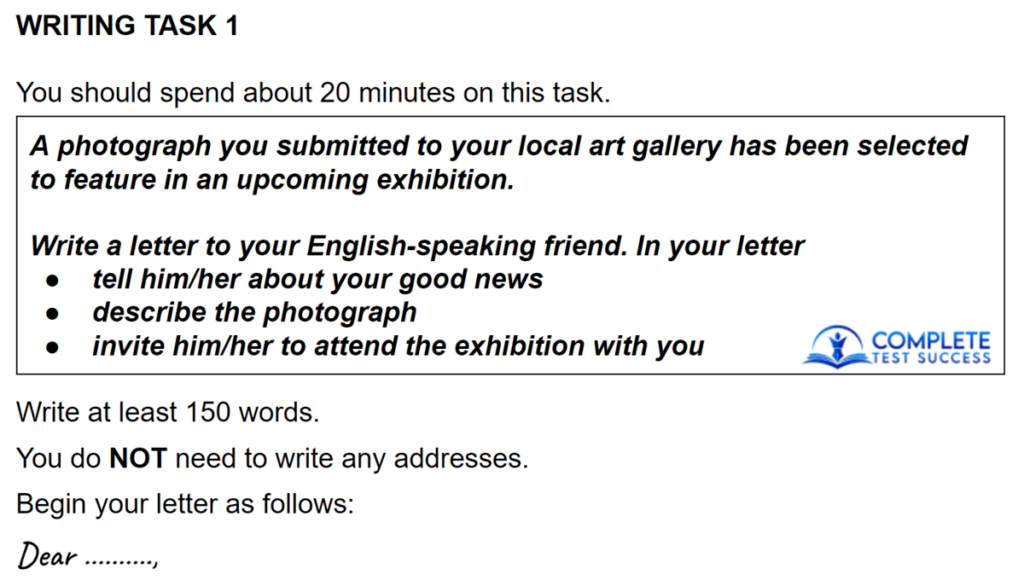 Feedback Video #10
Sample Answer #10
Dear John,

A few weeks ago, I sent a photo I had taken to the art gallery on Hive Street, and they have chosen it to appear in an exhibition they're putting on next week. I had never submitted anything to an art gallery before, so I wasn't expecting to hear back from them, which makes it all the more exciting for me.

The photo they are showing is one that I took at the pier about 6 months back during that lovely weather that we had. It was about 10 o'clock, and the sun was setting behind the mountain on the far side of the river. Because of the timing, there was no glare from the sun, and it was casting a beautiful warm orange glow across the sky.

I wanted to ask if you would like to come to the exhibition with me. The exhibition is on Wednesday and doesn't start until 7 pm so I can pick you up at your place at around half five and we'll get dinner somewhere first. So just let me know if you can go or not because I'll find someone else to come with me if you're not able.

Best wishes,

Lar
#11 Formal Letter Sample
Question #11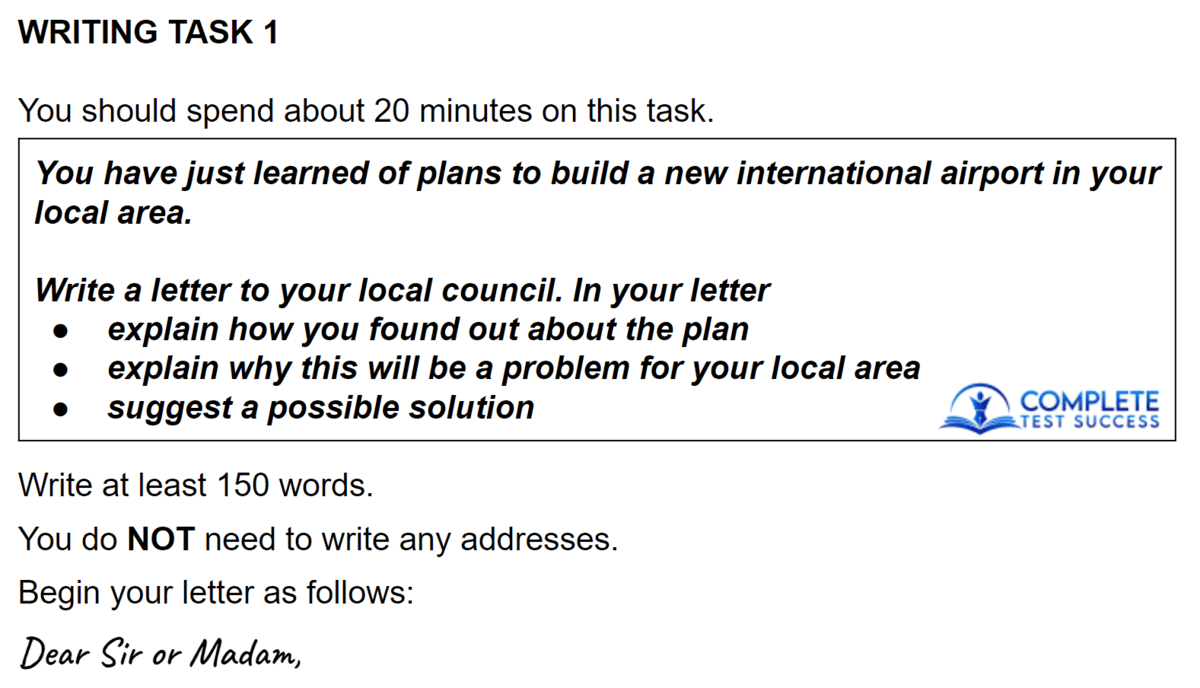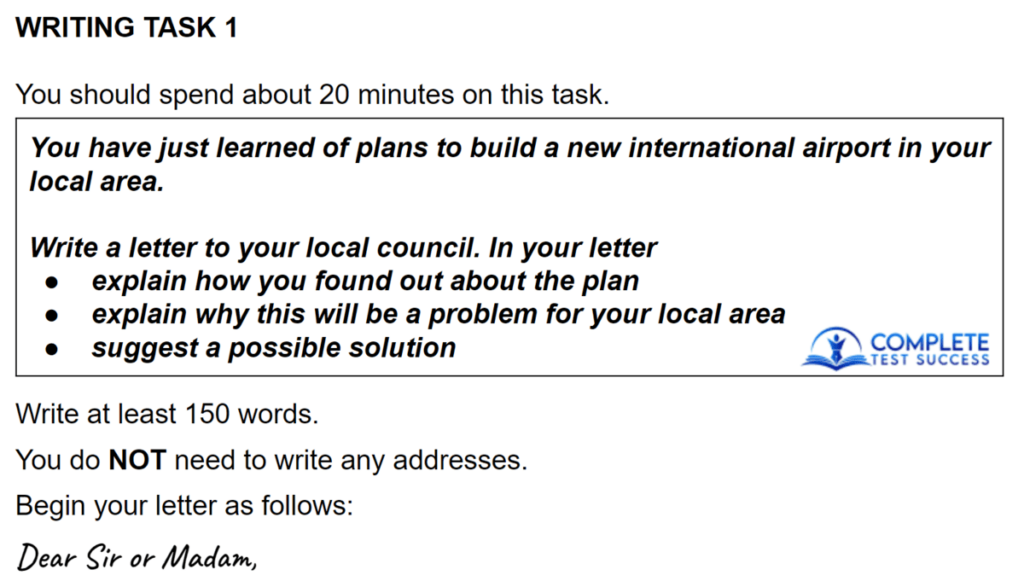 Feedback Video #11
Sample Answer #11
Dear Sir or Madam,

My brother-in-law has recently disclosed to me that you intend to build an international airport in the Rockwell area. He discovered this as he is a contractor and was requested to submit a quotation for constructing part of the terminal. Although he was instructed not to share this information, he decided it was important that I know.

This will have a serious negative effect on my profits and the profits of the other farmers in our community. As I am sure you are aware, we are mostly dairy farmers in this area, and there is a long history of cattle producing less milk when they are exposed to the noise of low flying aircraft.

One option that would minimise the adverse effects of your plan is for the runway to run from northwest to southeast. That would mean that the aeroplanes would not be taking off or flying in to land directly over our pastures and, therefore, would reduce the risk of our livestock being affected by your decision.

Yours sincerely,

Lar Ryan
#12 Informal Letter Sample
Question #12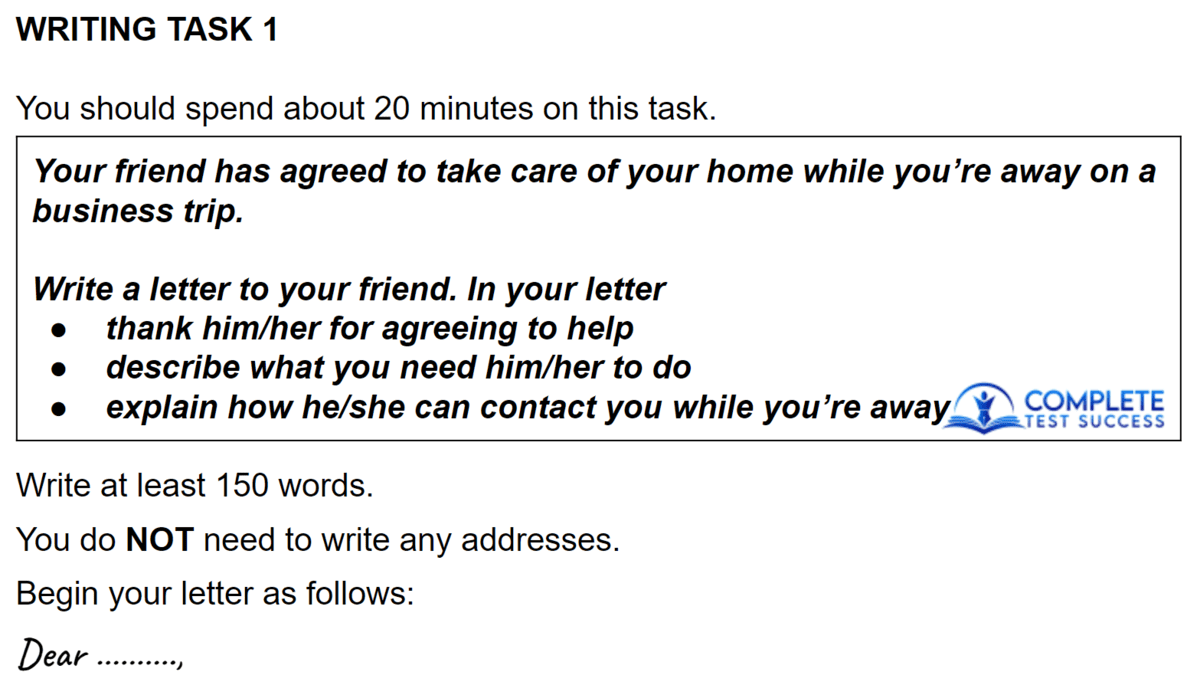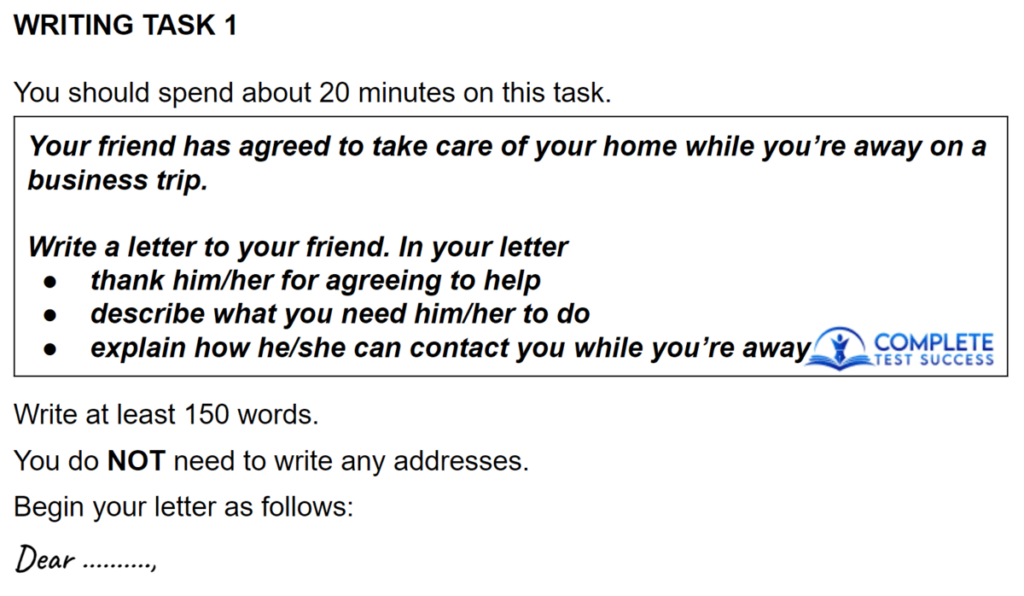 Feedback Video #12
Sample Answer #12
Dear Jane,

Thanks so much for agreeing to look after my house for the next week. I know you're already busy, so it's a huge deal that you're willing to use the little bit of time you have to help me with this. I definitely won't forget it, and I owe you a big favour now, so make sure to just ask me whenever you think of anything that I can help you with.

While I'm away, please water all of the plants once every two or three days. You'll find a jug under the sink in the kitchen, and you can just use normal tap water. The ones on the balcony are a bit high, though, so you'll probably need to get the stool from the dressing table in the bedroom to reach those.

If you need me for any reason while I'm gone, you'll be able to call the reception desk at the hotel where I'm staying and leave a message for me there. You'll find their business card in the envelope with this letter, and you can use the phone number that I've circled in red on the back.

Best wishes,

Lar
#13 Formal Letter Sample
Question #13
Feedback Video #13
Sample Answer #13
Dear Mrs Smith,

For Gary's retirement party, I have booked eight tables that each seat ten guests at a local restaurant named The Kitchen, which serves a variety of French and Italian cuisine. In addition, we will be seated upstairs in a large private area that is air-conditioned, spacious and well-lit, with a sound system that we will have control of.

This venue is suitable as it is located on the same side of the city as our offices which means that we will not be affected by the rush hour traffic when commuting there after work this Friday. Furthermore, there is ample parking for all attending which means that dinner will be served as early as possible as per your instructions.

For the retirement gift, I purchased an elegant watch manufactured using scrap metal from an old fighter jet. As you know, Gary served in the air force, so this gift considers his personal life while also keeping within the tradition of a watch being presented to the retiree.

Yours sincerely,

Lar Ryan
#14 Formal Letter Sample
Question #14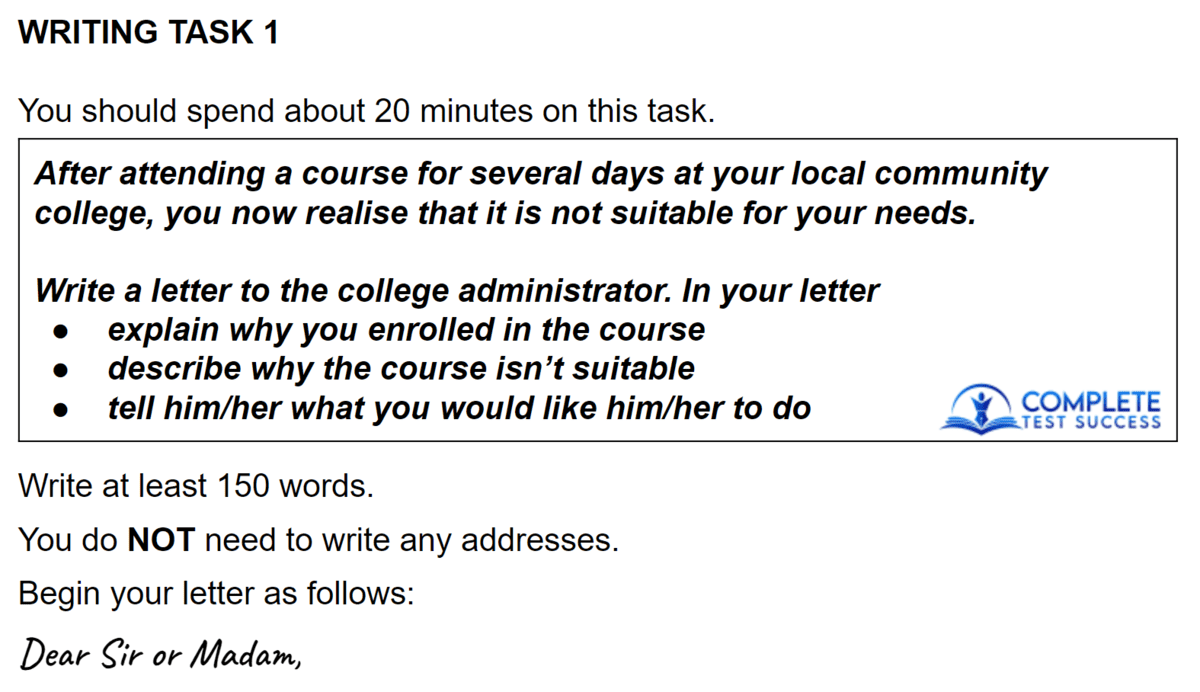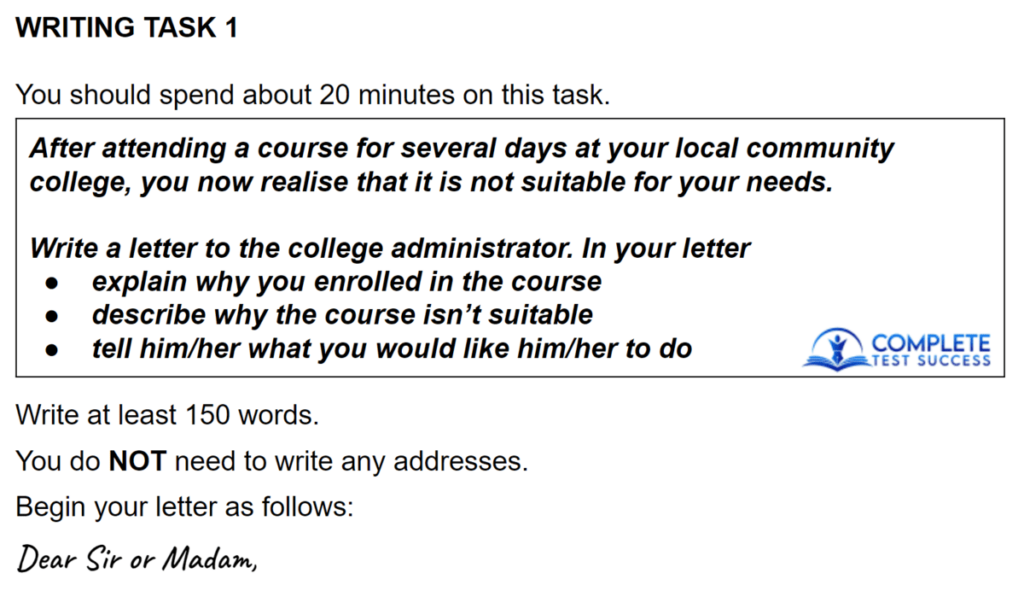 Feedback Video #14
Sample Answer #14
Dear Sir or Madam,

I am writing this letter in regard to the Business Management course that I joined at your college because I need to gain more knowledge in this field to apply for a better job. ​I am hoping to apply for a marketing manager position for which I am required to have a qualification in the management field.

I believe that the course is not suitable for me because of my educational background. I completed my education in science, which is why I do not have the core knowledge of business studies that is required for your Business Management course. ​After attending the classes for a week, I have realised that I need to attend a foundation course first to learn the basic concepts of business.

I was hoping that you would allow me to postpone this course until your next enrollment early next year. If I could stop studying this course this week, I would have an opportunity to study the basic knowledge that I need first. Then, next year, when I'm better prepared, I would benefit more from the curriculum.

Yours sincerely,

Domenico La Fauci
#15 Formal Letter Sample
Question #15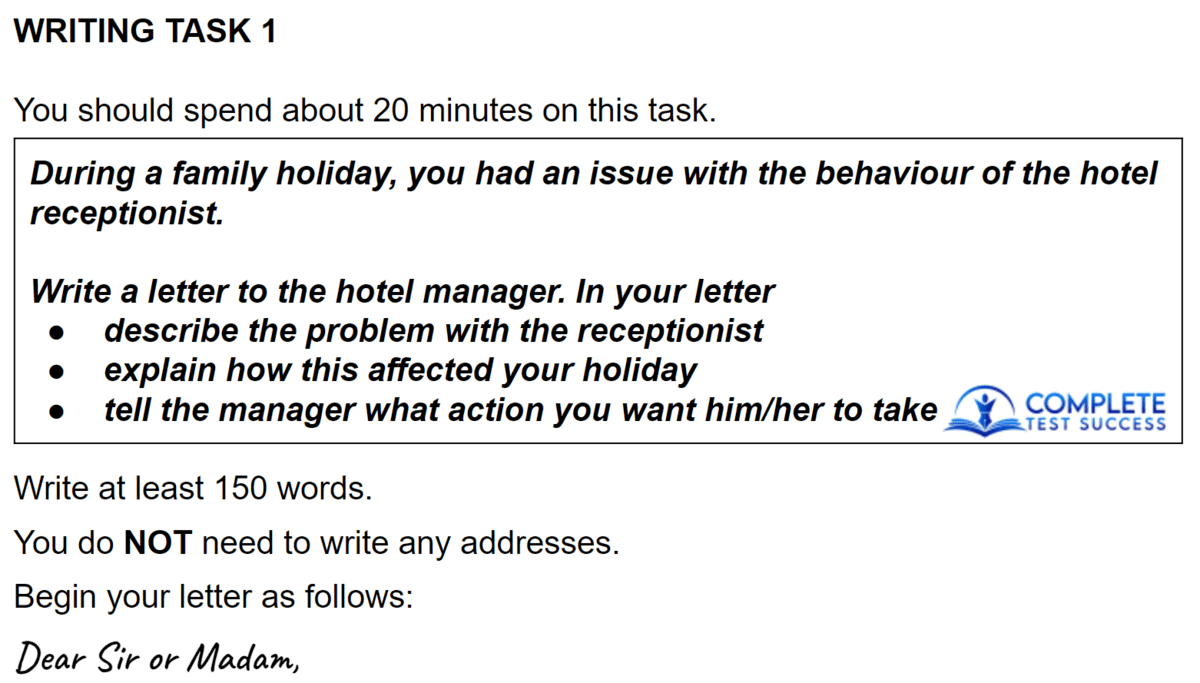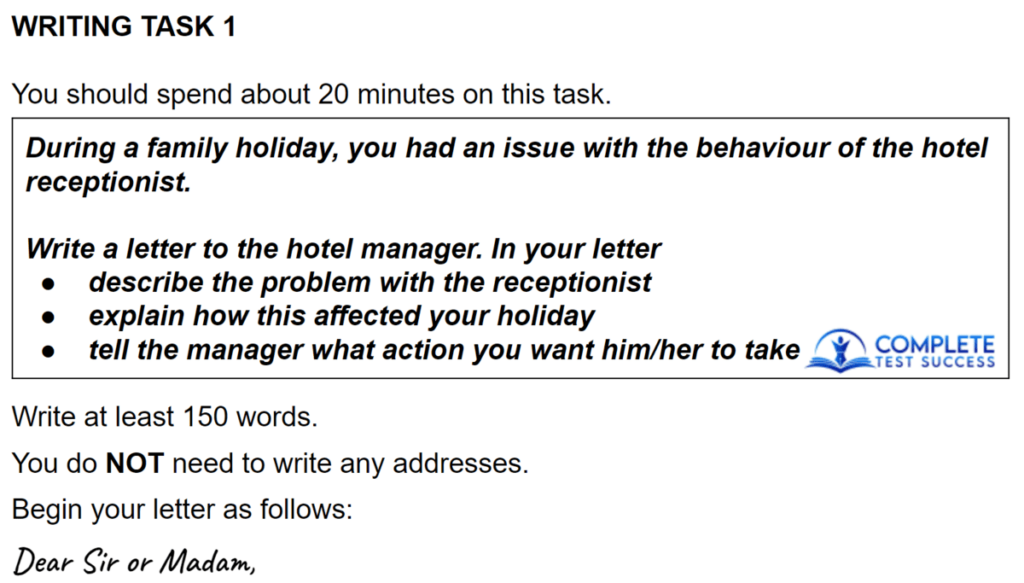 Feedback Video #15
Sample Answer #15
Dear Sir or Madam,

Recently, I stayed at your renowned hotel, and I became upset because of the rude behaviour of your receptionist when ​I asked him if he could arrange for someone to change my bed sheet, but he refused to do that. He told me that his shift had finished, and it was not his duty anymore to resolve this issue. I was really surprised by his response.

Due to this interaction with your receptionist, I couldn't sleep well that night, and this caused me to be extremely tired throughout the next day. Due to this sleepless night, we missed the buffet breakfast at the Pacific Restaurant which I already had paid for before coming to this hotel, and therefore, we all had to eat at another restaurant, and I had to pay for breakfast a second time.

Because I have lost money on account of your receptionist's behaviour, I expect you to refund the money I paid for the breakfast at the Pacific Restaurant. I have attached my bank account details, and I am expecting the refund as soon as possible. If I don't hear from you within five working days, I will deal with this problem through my bank.

Yours sincerely,

Lar Ryan
Free Live Feedback Lessons
Besides that, if you need further support, you're welcome to sign up below for my free Live Feedback Lessons on Zoom every week.